The future leads us back to the ocean.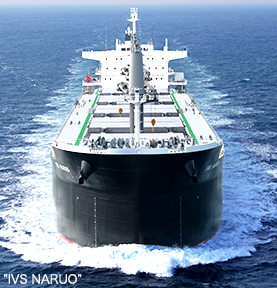 Nowadays, the volume of Japan's ocean transportation accounts for 99.5% of its total trade volume, and the volume of sea cargoes arriving and departing from Japan accounts for one-fifth of the worldwide sea cargo movement.
Seaborne trades, which started in far-away places from Japan before the dawn of history, have gone through a dramatic evolution in recent years here in Japan.
SUN OCEAN CORPORATION aims to continue playing a role in marine transportation-one that has increased in importance throughout the company's long history-and continue contributing toward the promotion of maritime trade for the ongoing development of humankind.

We provide the technology needed for heavy goods transportation.
Marine transportation is the link between international and domestic oceans. Building JFE-1, oceangoing vessels that achieve low rolling and enable fork-to-fork operations on our experience with the roll-on, roll-off large ocean barges the HIKAWA and the SUN RIVER, SUN OCEAN CORPORATION owns and operates the MOMI ARROW, and the GDF SUEZ NORTH SEA, and the IVS NARUO, and the SUMMER SKY, and the AMBER STAR. They are the backbone of our strong support for the efficient transportation of steel materials, bulk luggage, etc.
We guarantee reliable services backed up and reinforced by our solid track record.
Through our coastal shipping operations, we transport general steel products and heavy-load plant cargoes by using deck barges and box barges as well as coastwise vessels. And through our international shipping operations, we operate ocean-going vessels in the 1600t deadweight tonnage class or higher in the greater coasting area, and we can handle not only port-to-port transportation but also direct transportation from shipper's designated quay to consignee's quay. We make the most of our vessel's features to provide large-scale cargo transportation at reduced cost and with a high level of service.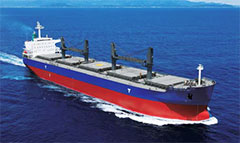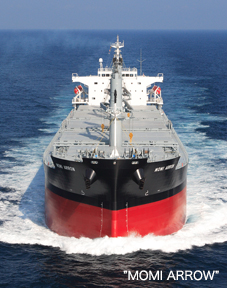 Harbors act as go-betweens for the world's oceans and lands.
Harbors are the places where multitudinous cargoes are brought from across international and domestic oceans. Our harbor transportation section provides a high level of services, transporting cargoes within the Osaka Bay area and foreign cargoes between Osaka and Kobe, not to mention our import and export cargoes. From ocean to land, and from land to ocean, we have made terminal operations more efficient and thereby created a prompt, seamless transportation system.